The Perfect Family Destination – Watford City, North Dakota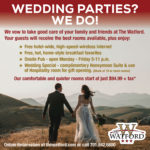 With its convenient location, spacious family-style accommodations and signature suites sleeping up to 5 people, complimentary enhanced continental breakfast and high-speed Internet access, The Watford provides the ideal setting for your next family vacation. Watford City, ND provides year-round fun and excitement for the whole family. In the fall and winter, skiing, sledding, and hot chocolate by the fireplace will keep everyone in high spirits. In the spring and summertime you'll find hiking, swimming, gold, fishing and more for the whole family to enjoy together. There are numerous are attractions within just a few miles that will provide lots of fun for the entire family.
THEODORE ROOSEVELT NATIONAL PARK (North Unit) – Theodore Roosevelt fell in love with the North Dakota Badlands while on a big game hunting trip in the 1800s. Today this national park, which honors the "Conservation President," is home to bighorn sheep, a bison herd, mule and white-tail deer as well as many other species of prairie wildlife.
LITTLE MISSOURI NATIONAL GRASSLANDS – Administrated by the U.S. Forest Service, the McKenzie Ranger District of the Little Missouri National Grasslands encompasses over 503,000 acres of public access land that offers a diverse experience from hiking, camping, hunting, horseback riding, bird watching and photography.
MAAH DAAH HEY TRAIL – This nationally recognized multi-use trail stretches for 96 miles through the rugged and beautiful North Dakota Badlands. The trail is a perfect way to explore and enjoy western North Dakota's scenery whether on foot, mountain bike or horseback.
LAKE SAKAKAWEA – Lake Sakakawea, one of the largest man-made lakes in North America, stretches nearly 160 miles and offers some of the finest walleye and northern pike fishing in the nation. Recreation areas, campgrounds, boat ramps and public access areas along the lake are managed by the North Dakota Game & Fish Department, the North Dakota Parks & Recreation Department, the U.S. Army Corps of Engineers as well as numerous city and county park systems.
WILD WEST WATER PARK – Plunge down two water slides or soak your weary bones in a family-sized hot-tub! The Wild West Water Park in Watford City offers great family fun all summer long.
TOBACCO GARDENS RESORT & MARINA – Located 26 miles north of Watford City on 1806 West.  Tobacco Gardens Resort and Marina is in the heart of beautiful Lake Sakakawea and the Missouri River System.  Tobacco Gardens is a great place for fishing, ice fishing, hunting, hiking, boating or just sitting by the water.
FOX HILLS COUNTRY CLUB – Located 1.5 miles east of Watford City on Hwy 85.  The Fox Hills Country Club features a new lounge and restaurant with pro shop.
ROUGH RIDER CENTER – The Rough Rider Center is a world class, 268,000 sq. ft. multipurpose facility in Watford City just a few miles from The Watford Hotel. The facility is designed to enhance the quality of life for all residents and visitors to McKenzie County by providing numerous spaces for athletic programs, sporting events, meetings, conventions, expos, entertainment and special events, educational opportunities and workforce development.