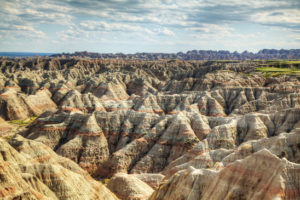 The next time you want to go on a vacation that focuses on natural beauty above all else, head straight to Watford City, North Dakota. As you might already know, North Dakota, along with Montana, are well known for offering wide expanses of unspoiled terrain. If you're the type of person who appreciates fresh air, clean lakes and not-often-seen wildlife, then this is definitely the destination for you. While there are several hotels in Watford City to choose from, one definitely stands out above the rest.
The Watford Hotel
This hotel offers a lot in the way of amenities. However, you shouldn't underrate the friendly service and atmosphere, either. In regards to the amenities, there is a complimentary breakfast, free WiFi, a business center and a lounge with a fireplace. Each room also has a refrigerator and flat-screen TV. The rooms are clean and the beds are comfortable.
Nearby Activities
If you're an active person, then you will greatly appreciate what is offered in the area. If you visit in the winter, then you can take advantage of skiing opportunities. You can also go sledding and snowmobiling. When your day is through, come into the lounge and sit by the fire while drinking some hot chocolate.
If you visit in the summer, you will have just as many options, if not more. The most popular summer activities are hiking, swimming and fishing. In regards to fishing, be sure to visit Lake Sakakawea. This manmade lake is over 160 miles long. It's also home to some of the best northern pike fishing in the country. If you choose to fish here, you can visit for the day, or you can stay overnight since there are several campgrounds.
Nearby Attractions
We already covered one of the local attractions, which is Lake Sakakawea. However, there are even bigger attractions in the area. Perhaps the most popular attraction is Theodore Roosevelt National Park. This park was built in the 1800s, and it's located in the Badlands. It's a great way to see wildlife like bison, white-tail deer and more.
Another popular attraction is Little Missouri National Grassland. This area is over 500,000 acres. It's best known for its hiking and hunting opportunities. Don't worry; the hunting and hiking areas are not near each other. This is also a popular spot for nature photographers.
If you would like to hike or horseback ride on part or all of a 96-mile trail, then visit the Maah Daah Hey Trail. Another option is to mountain bike, which is invigorating, but you would miss out on a lot of the detail.
Staying At The Watford
If you look at online reviews for hotels in Watford City, you will see that The Watford is clearly the No. 1 choice. If you choose to visit the area and stay here, then there's a good chance you will be back for a second trip.